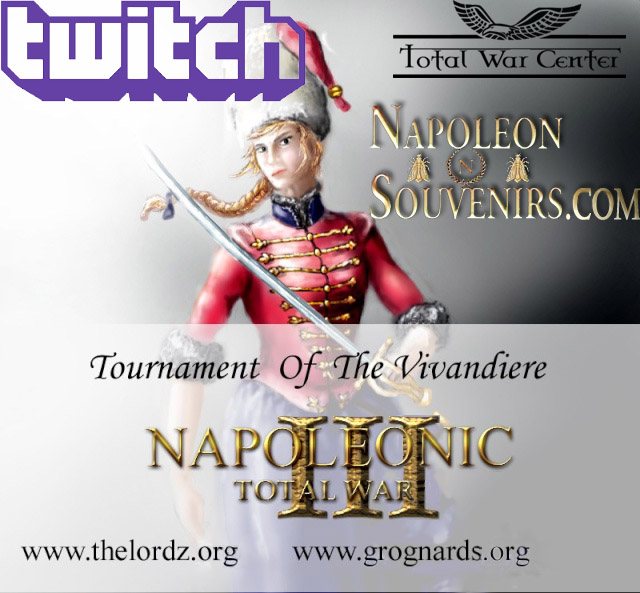 The Lordz together with TWC, Napoleon-Souvenirs and the Golden-Musket tournament site, will be broadcasting the Final of the Vivandiere Tournament, live on Twitch.



Saturday March 25th at 3PM UTC

.


A b [...]
Views: 1608 • Comments: 0 • Post a reply
[ Read all ]
A new free Discord server has been created. It's a voice and text chat software, available on Windows, Mac, Android, Linux, etc.
Basic installation and use procedure :
Views: 3526 • Comments: 13 • Post a reply
[ Read all ]
---
In total there are 26 users online :: 3 registered, 0 hidden and 23 guests (based on users active over the past 5 minutes)
Most users ever online was 136 on Sat Mar 31, 2018 8:13 pm

Registered users: Baidu [Spider], Bing [Bot], Google [Bot]
Legend: The Lordz
Like us !
Newest members
Statistics
Totals

Total posts

113080

Total topics

8455

Total Announcements:

73

Total Stickies:

125

Total Attachments:

586

---

Topics per day:

2

Posts per day:

21

Users per day:

1

Topics per user:

1

Posts per user:

16

Posts per topic:

13

---

Total members

7070

Our newest member

Colleoni
Link to us
Please feel free to link to The Lordz Forum. Use the following HTML:



Battle of Iena-Auerstadt
Links
Discord Server